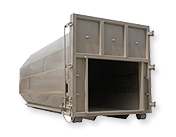 VERTICAL FRONT & REAR LOAD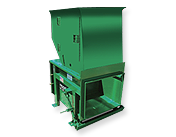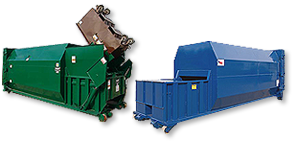 SELF CONTAINED COMPACTOR MODELS
This completely contained, heavy duty compactor is typically used in commercial and industrial environments. Specifically designed to contain wet material, this unit boasts a one piece floor to which both the compaction unit and container are attached. The door is sealed on the container to prevent escaping liquids. The whole unit is removed for dumping and then returned to your site. The standard units are available in sizes ranging from 15 to 34 cubic yards.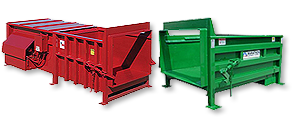 STATIONARY COMPACTOR MODELS
This compactor is bolted to the concrete and works in conjunction with a compaction/receiving container. Also known as a Break-Away compactor, the compactor and container separate when disposal is required. This unit is designed to handle dry material. The compactor remains on the customer's site and comes
in sizes ranging from 2 to 7.5 cubic yards. It will accommodate various material lengths. This machine is designed for numerous commercial and industrial applications.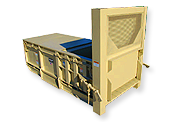 PRE-CRUSHER COMPACTOR MODELS
This compactor is an extra heavy duty stationary compactor with a large steel bulkhead that crushes material prior to being put into the compaction container. Typically used for large bulky items, this unit is built to dramatically reduce size and densify material prior to being regularly compacted. The standard units are available in sizes ranging from 4 to 6 cubic yards.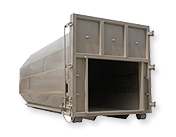 COMPACTOR / RECEIVING CONTAINER MODELS
Compaction containers are used in conjunction with stationary and pre-crusher compactors and come in standard or heavy duty construction. These containers range in size from 15 to 50 cubic yards.

VERTICAL FRONT LOAD / REAR LOAD COMPACTOR MODELS
These units are designed to give the benefits of a compactor to smaller volume users. Ideal for smaller accounts or where space is limited, these smaller compaction units work in conjunction with a front load or rear load truck. They work well in both wet and dry waste environments such as restaurants, office buildings or strip malls. These units are typically available in 3 to 8 cubic yard capacities.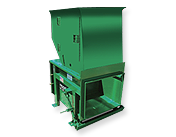 APARTMENT COMPACTOR MODELS
Specifically designed for smaller trash rooms at high rise or multiple level buildings, this compactor works in conjunction with a trash chute to automatically compact waste dropped from several different floors. By utilizing a photo electric cycle control and specially designed hoppers, the unit requires little supervision. Materials are compacted into 2 or 3 cubic yard containers.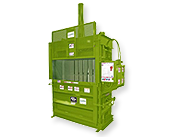 Vertical Downstroke Balers are typically used in conjunction with industrial or commercial commodities such as cardboard (OCC), plastic, paper or aluminum. They are available in a variety of sizes and can produce a bale weighing anywhere from 2090 to 1600 pounds.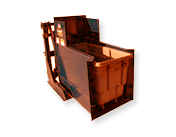 Used to facilitate transfer of material from various size and shape carts/containers, these hydraulic units can be made to fit a variety of containers ranging from a 90 gallon toter,
a 1 cubic yard rubber maid container, to a 3 cubic yard steel cart.